Tiny Art Build Party, Oakland, Aug 8th
It's the first Tiny Art Build Party of 2010! Bring your pencils, brushes, x-actos, glue, wood, plastic monkeys, whatever your art requires and most importantly your creative energy!
This party is open to tiny artist going to either Balsa Man or the Balsa Man Regional in Black Rock Desert__, NV.
Oakland Tiny Art Build Party
Sunday, August 8th from noon till 8pm Two blocks from Rockridge BART. Contact info@balsaman.org for exact location (same location as last year's Oakland Build Party). facebook event page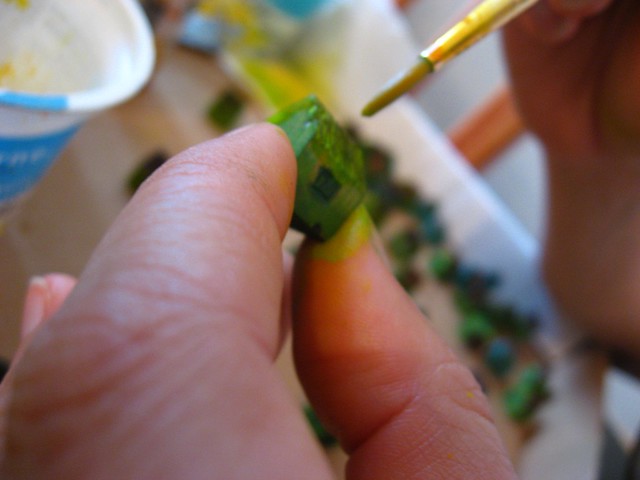 Build Party FAQ
Will there be free food and booze?

Maybe but don't count on it. Bring your own and while it's not required, anyone who brings potluck food will be greeted with joyful squeals of glee!*

Will there be art materials & tools for me to use?

The BPAF has donated some art materials (wood and glue) and tools (pencils, knifes, and rulers); however is is highly recommended that you bring your own art supplies/tools.
In-kind donations of extra art materials are always welcome!*

Can I buy patches and stickers to help support tiny art at the event?
Can I hand deliver my art grant proposal at the event?
I have  fear of crossing the Bay. Will there be another Tiny Art Build Party in San Francisco?

Ideally yes. We are still searching for a location for a San Francisco Tiny Art Build Party. If you are interested in hosting and live in San Francisco (ideally close to public transit) please contact us at info@balsaman.org.
Also, if you are interested in organize another East Bay or South Bay or North Bay Tiny Art Build Party please contact us at info@balsaman.org.
* Particularly bountiful (or delicious) in-kind donations of art materials or shared food will be receive a special gift from the Black Pebble Arts Foundation.
We hope to see you and your creativity at the Oakland Tiny Art Build Party!