It's the first ever Balsa Man Bingo! Don't have a ticket to this year's Balsa Man? What to get on the special location announcement list. This is your chance!
Due to the new ticketing rules, only ticket holders get on the location announcement list; if you do not yet have a ticket, you must either be an artist and submit an art grant or come to one of the Ticket Casino Events. The Balsa Bingo Event is the first such event (others are TBD). For more read our Updated Ticket & Location Announcement Policy.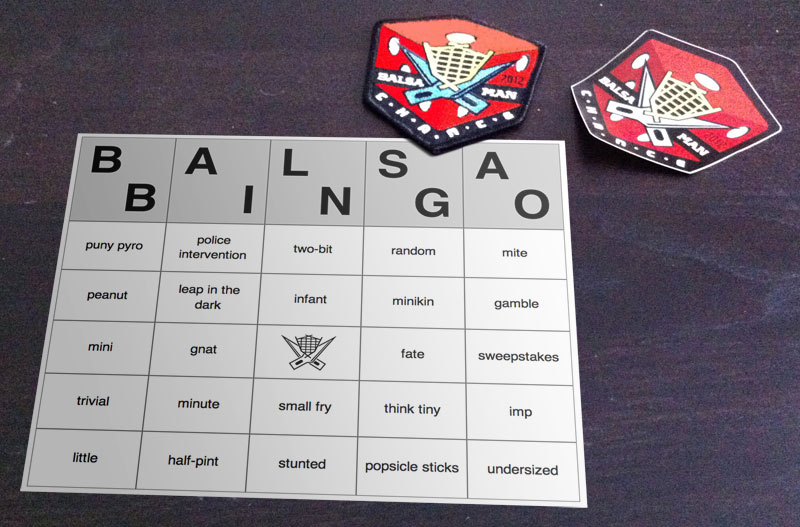 Balsa Bingo
Music! Snarky Bingo Announcers! Photo and art gallery from past Balsa Man! The band Ghost Town Gospel! Did I mention bingo?!?
August 11th, noon to 5pm
Chez Poulet,  3359 Cesar Chavez
Schedule
Doors at noon; first game at 12:30
3pm musical intermission with the fabulous band Ghost Town Gospel
Ends at 5pm
Door charge $2 or more sliding scale*
*$2 gets you in the door, 1 bingo card and one sticker or die of your choice. More $ gets you more bingo cards, Balsa Man patches, stickers, and dice.
PLEASE RSVP on Facebook if you are coming as we would like to get an idea of how many bingo cards we will need.
FAQ:
Is this Balsa Man Bingo a real event? … YES!
I mean really you've never done one before and it sounds ridiculous? … I know right, but YES IT IS A REAL EVENT!
Why should I come? Will it be fun? … YES! What better way to support tiny art than to play bingo on a Saturday afternoon!
Can I join even I show up late? Yes you can join or leave any time as there will be several games throughout the day.
What do I win? you win two Balsa Man tickets and your name on the special location announcement list.
Balsa Bingo Rules
Each game is played until someone gets 5 in a row.
First person to yell BALSA! wins (as long as it is a valid win)
Winner gets two tickets to Basla Man and their name on the location announcement list.
The winning card can no longer be used in future games, though the winner can continue to play with other cards.
New game begins as soon as winner claims their prize and sits down or decides they are done playing.
People can join or leave games whenever they want.
Ticket Design for 2012!